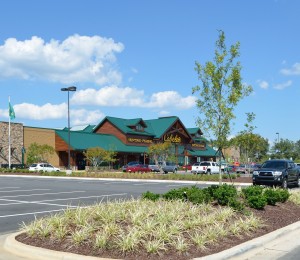 At Norris Landscaping, we have successfully managed a large array of commercial landscape installation projects, from the ground-up through completion. The valuable skills and capabilities we acquired throughout the years, allow us to offer customers many attractive options to select from, at very competitive pricing.
Whether representing the public or private sector, Norris Landscaping works closely with the owners, architects, general contractors, and project managers to ensure optimum outcomes are achieved. We do this by meticulously coordinating all activities throughout the individual project stages, beginning with the design phase, planning and implementation, and our experience enables us to foresee issues and address prior to problems emerging.
An integral part of our service is to propose and advocate ideas; and the use of state of the art equipment and trained personnel to deliver the following services:
Landscape Design/Build
Landscape Bid/Build
Site Backfill
Rough & Final Grading
Turfgrass Sprigging
Hydro-Seeding & Sod Installation
Irrigation Systems
Tree & Shrub Planting
BMP Wetland Planting
Sports Field Installation
Grass & Unit Pavers
Retaining Walls
Site Clean-up & Sweeping
Silt Fence and Erosion Control
Dust Suppression & Management
Supplemental Watering
Norris Landscaping has a wide-ranging customer diversity base including the following property types:
Corporate Campuses
Commercial Office Parks
Industrial Complexes
Retail and Public Areas
Schools, Colleges & Universities
Hospitals & Medical Clinics
One of the more essential service aspects to guaranteeing quality performance is provided by our highly trained and professional employees. We are proud to know that our personnel represent the face of our company throughout each day. Additionally, we are extremely eager to tout the combined work force at Norris Landscaping provides our customers with 100-years of high level industry experience on every job we perform. We invite you to give us a call, and allow us the privilege of demonstrating first hand our exceptional service and sterling industry reputation.