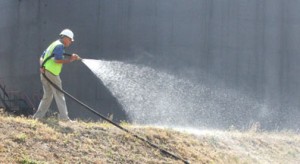 Hydroseeding is a great way to get a beautiful lawn fast! Norris Landscaping offers hydroseeding services to homeowners and would be pleased to provide a turn-key solution for your lawn, including soil preparation, grading, or simply applying the appropriate blend onto your prepared site.
Our goal is to deliver the highest quality product and results to bring you complete satisfaction. Equally important is that you partner with a professional with the proper knowledge, equipment, and utilizes best industry techniques to ensure you get a premium turfgrass. Call today for a Free Consultation and written Estimate.
What Is Hydroseeding
So, what exactly is hydroseeding? It is the process of combining seed, mulch, fertilizer, and healthy soil amendments with water, to mix in a HydroSeeder tank to form thick slurry. The slurry is then applied with pressure from a hose or tower, to the surface for seed germination and turf development. Hydroseeding is the fastest, most cost effective and highest quality method of seeding lawn, landscape and erosion control practices.
Hydroseeding Services
Seeded varieties of Bermuda, Fescue, Zoysia, and Centipede
Slope Blends & DOT Blends
Land Restoration
Erosion Control Blends
Temporary & Permanent Seeding
Wildflower Blends
Wetland & Stream Bank Blends
Pastures & Meadows
Native Grasses & Legumes
Expectations on Lawn Maturity
Expectations for a newly hydro-seeded lawn are:
Fescue, 4-5 weeks for sod like conditions
Bermuda, 10 weeks
Centipede & Zoysia, 1-2 years
Wildflowers, blooming within 4-5 weeks